Your Best Source for Precision and Quality
Custom Plastic and
Metal Fabrication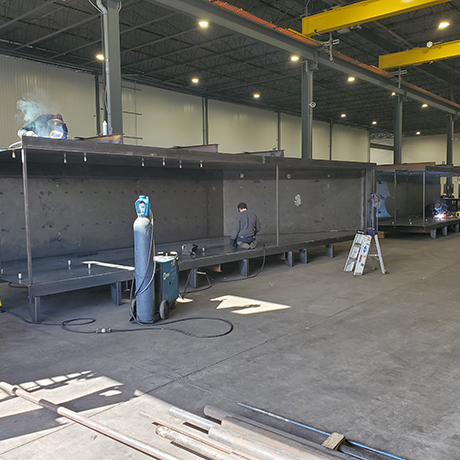 POLYFAB INDUSTRIAL SERVICES INC.
A tradition of making products in our state of the art, quality controlled, 40,000 square foot plant.
Our production facility has the flexibility to fabricate small or large quantities at competitive prices. Our in-house design capabilities and manufacturing give us the ability to ensure that tight production schedules are met, while the highest levels of quality are maintained.
What our customers are saying.
"Due to a failed lead liner in one of our etch process tanks, we needed a "RUSH" replacement as soon as possible to avoid delays in production. Thanks to Polyfab's in-house laser processing capability and materials inventory, they were able to deliver a new titanium unit within 2 weeks."
"With short lead times and tight scheduling, Polyfab is our choice in tank suppliers. Polyfab's tanks are built to ensure optimal up-time with low cost ownership. Their customer service and workmanship is second to none."
"For years, we experienced short life expectancy of our PVC lined decorative chrome plating tanks until we switched to Polyfab's integrated PVDF tank insert utilizing external support structure. This has resulted in a significant cost savings as well as minimized down-time."
"There would be too many positive words to describe Polyfab Industrial Services Inc. and X-L Fabrication Inc., but I would only say that they can certainly be considered an official partner of SAT hopefully for many other projects."
Get in touch for a detailed quote.